Enthusiasts
FordTorino.net - My 1969 Ford Torino Project Welcome. This site will show the progress on my 1969 Ford Torino 2 Door. It is a 351 Windsor 2bbl with FMX automatic transmission. Please check back for updates.
Ford GT Forum - Ford GT.org is dedicated to owners and lovers of the Ford GT and GT 40.
Haus Von Dula - Welcome to my site!. Its still very much in construction so please keep checking back. This site is dedicated to my passion for Hot Rods old and new. My current project is the 69 Torino, yet I'm always doing something to the Lightning. Soon I will have more information posted.
Winged Messenger - Dedicated to the promotion and preservation of all Mercury vehicles. This web page was created for the purpose providing information on Mercury vehicles in the United States. Great effort has been put into offering detailed and accurate information on each make and model.
Torinogoth.com - Welcome to my Zaga...I will be posting updates on the transformation of my 1972 Ford Gran Torino....the car who wrose up fron the dead...litterally like it came out from 1972....in to what will be considered a mostrosity....many will fear it ...Few will worship it ...and i will be the key keeper... So come and enjoy with me...the tears...the embarresment...the anger...the passion...and oh yes the pleasure.
Smokin Autos - Welcome to Smokin Autos. If it's smokin we hope you'll find it here. This site was developed by car and bike enthusiasts for the enjoyment of other car and bike enthusiasts. We hope we can bring some joy and happiness to the hard core devotee and novice alike. On these pages you can find the best in Car Classics, Street Rods, Muscle cars, Track, Current Customs, and the Fast and Furious as well as Motorcycle Classics, custom design and fantastic choppers.
SmogERA.com - Welcome to SmogEra.com, the only place on the web dedicated to the restoration, modification, preservation, and customization of classic vehicles of the 1970's. Our mission is to spread the word about how much fun it can be to own, drive, and work on these unique automobiles. Whether you're building a cruiser, a low-rider, a muscle car, or just restoring your favorite ride to showroom condition, you'll find plenty of helpful friends at SmogEra.com!
Talladega Project - This website goes into great detail about the Talladega and the journey I have had rebuilding the car. To complicate things further, I purchased a second car to "enjoy" while the project was ongoing. Now I have two projects.
351-4v.net - Tim McNeil from Clearwater, Florida 1971 Torino vanity site!
Laserman's Torinos - Torinos Parts Links and 1973 VINCODE DECIPHER
GrandTorino.com - 1969 Grand Torino Convertible, Touring 2 door, 351 V8

Ranchero USA - Welcome to www.Ranchero.us or Ranchero USA. This is a club for all owners or lovers of the Ford Ranchero. The purpose of this site is to keep ALIVE the Ranchero, get a DATA BASE together for all owners, SEARCH OR SELL PARTS, POST PICS, and get a NATIONAL RANCHERO MEET together like every other Ford make has. If you are looking for parts, help or just Ranchero chat this is the ONLY place to be!
Great Old Cars - Welcome to Great Old Cars Making Classic Cars & Trucks Fun To Own and Drive! Free Classic Car Classifieds, Classic Car Clubs & Event Listings plus VIN Decoding. Classic cars, collector cars, muscle cars Parts & Services Listings.
Festival of Classic Cars Show & Cruise - Home site for the Romeo Peach Festival's Festival of Classic Cars & Cruise. One of the BEST shows in the Detroit area in Romeo, Michigan.
The Lost Car Registry - This site is for people looking to reunite with a long, lost vehicle - especially a musclecar. There are several sections on the site and a discussion board. The site is open, however, to ANYONE interested in finding ANY former vehicle!
ToddsTorino.com - Hot Rod Todd's Torinos, past and present, from 1973 to 2002!
Cobra Jets of Victoria - There is a small group of survivor, restored or modified Torino Cobra Jets here on the West Coast. These are some of them. Click on any Cobra to see more pictures and information
American Musclecars - American Muscle Cars aspires to be a successful community of American Muscle Car enthusiasts.
The Ford Torino Page - A webpage dedicated to the Ford Torino, Ranchero, Elite, LTD II and the Mercury Montego
Australian Falcon Coupes - Fantastic site by my buddy Brian Haines of Australia. This internet site is dedicated to Falcon Coupes made in Australia from 1972 to 1979. I and many others agree that these are some of the best looking vehicles ever made.
The Mercury Cyclone Page - is dedicated to Mercury's forgotten muscle cars of the late 1960's and early 1970's, specificly the 68 through 71 Cyclone, Montego, Comet and Ford's version of the Cyclone, the Torino.
Car Pictures.com - Our Mission...
To have at least one picture of every car that has ever been produced in the history of this planet!
The Barn - American Muscle Cars - "The Barn" is a century old structure off a quiet country road in New England. This site is not about barns, but what's inside this particular barn, vintage American muscle cars. This site is devoted to the individuals who really enjoy the exciting & powerful muscle cars from the 1960's & early 1970's
Performance Automotive and Museum Inc. - Welcome to Performance Automotive, A Family Collection of Unique Muscle Cars
Car-Trek - Headquarters for the Car Enthusiast
Auto World - The Inside Track - Autoworld Central is devoted to antique and vintage classic cars, Corvettes, hot rods, muscle machines and racers.
The Muscle Car Page - Muscle car everything
The Detroit News - JoyRides - Detroit area happenings and cars
The Gran Torino - A Tribute to Ford's forgotten muscle car...The Gran Torino
Ford Link Page - Ford Motor Company Corporate and Enthusiast links
Muscle Cars of the 60's - The page dedicated to those fabulous gas guzzlers of the past. Here you will find pages of advertising for cars that go fast and sound good. Do not take the title too seriously though. We reserve the right to also post 50's and 70's cars, mushmobiles, motorcycles, or the occasional really convincing Army Ad
Pure Muscle - This site is dedicated to classic muscle cars (primarily 1st & 2nd generations).
Torino's at Carlisle- Kent the Laserman's Torinos and Fairlanes at Carlisle All-Ford Shows

Jonathon Huntley - This page is dedicate to Ford's greatest Mid Size Car ever, The Ford Fairlane. Specifically the 1968 and 1969 Fairlane and Torino.
GALEN AND DEBBIE'S Classic Muscle Cars & Drag Race Vehicles - Our 1970 Torino GT is our pride and joy. In the past we spent many hours at various car shows and won several First Place trophies.
Dave Finn's Torino Cobra Web Page - Pictures of my 1969 Torino Cobra CJ-428 CID C-6 Automatic
1969 Ford Torino GT convertible 390, bucket seats, C6 auto, AC and power windows

Woody's Fairlane Site! - Where 62 to 71 Fairlanes are #1
Deano's Flying Ford - A new OZ (Australian) site being set up by a mate of mine in Sydney. WE have been doing some background work and have involved a number of people who are willing to share ideas and info. If you have any owners of Ozzie coupes in your group they might like to cruize the site and contact people for info and tips.
The Torino Brothers - Big into '72 Gran Torinos and 351c engines.
McFord MotorSports - This Site is Dedicated to Anything & Everything Ford, With the Emphasis on the Torino.
Marks 1971 Torino GT Covertible Page - This site is dedicated to the one's I love - the 1970 - 1971 Ford Torino's
Ford Musclecars - Performance Automotive Ford Musclecars
Cars in Barns - Rotting American Muscle. This is enough to make you cry. Every car you've ever dreamed off turned into a nightmare.
Mitch Lewis' Home Page - Pictures of Mitch's 429CJ Cougar XR7, Also Kaiser Frazer, Kaiser Manhatten, Kaiser Darrin, Henry J's.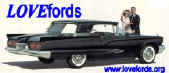 LoveFords Welcome to the home of LOVEfords! My name is John Rotella and I along with Ralph Siegenthaler, Adrian M. Clements, and Dave Molnar founded a "discussion group" on April 11, 2000. Ten months later, we have LOVEfords club members from New Zealand to Poland and Vancouver to Miami.
Walt Barnes 1970 Ford Ranchero Squire 429CJ - OK, I've got to admit the real reason I got my Ranchero was for the 429 Cobra Jet. Once I decided I wanted a 429 CJ something, and assuming I wanted something that legitimately came from the factory with one - mine didn't, but some did...
1972 AUSTRALIAN FORD FALCON XA GT COUPE - The Falcon from Ford of Australia. Known as Australia's most popular muscle car. These models produced from 1972 to 1978 were the high point of styling and .....by Thomas Nuss Jr.
My 69 Torino Home Page - Jeff Hopkins's 1969 Torino and his newest project a 70 1/2 Falcon. Car show pictures, specs, and car show events in Northern Virginia
Stuck in the 70's, Gran Torino Sport, Powered by 351C - Randy Adamson's web site about his 73 Torino. Compression ratio tools and other great tools.
Gran Torino UK - This United Kingdom site is dedicated to the Ford Torino. Based out of Scotland.
My Bad Bird, 1970 1/2 Falcon "The Forgotten Falcon - My name is Lonnie from Fort Pierce, Florida and this is my car, a rare bird known as the 1970 1/2 Ford Falcon. If you follow the links you can find more information and plenty of pics of this "Forgotten Falcon".
429 Cobrajet Mustang and Cougar Megasite - The purpose of this site is to provide hard to find information on these extremely rare cars as well as the 429 Cobra Jet and Super Cobra Jet engines they came equipped with. Also included is a photo gallery of 429 Mustangs and Cougars and comprehensive information and photos of the rare components used on these cars. We hope you enjoy the site!
Ranchero USA - Welcome to www.Ranchero.us or Ranchero USA. This is a club for all owners or lovers of the Ford Ranchero. The purpose of this site is to keep ALIVE the Ranchero, get a DATA BASE together for all owners, SEARCH OR SELL PARTS, POST PICS, and get a NATIONAL RANCHERO MEET together like every other Ford make has. If you are looking for parts, help or just Ranchero chat this is the ONLY place to be!
New York Torino and Ranchero Owners Club - A place for NY, PA, Ontario and Western OH members of classic Fords to meet and discuss thier cars and events in the area.
Ford Fairlane Club of America - Dedicated to the preservation, restoration, and enjoyment of
1962 through 1976 Fairlane and Torino cars and
Mercury cars based on the Fairlane/Torino chassis.
The Yahoo Ford Torino Club -This page is dedicated to one of his favorite cars 1968 - 1976 Torinos
The Fairlane Mailing List - The Fairlane / Torino / Ranchero Mailing List is a valuable resource for owners of these magnificent cars. The list averages 8-10 messages per day. Topics consist of technical problems, "How-To" questions and answers, performance, locating parts, and stories of cars owned, driven and raced.
Internet Ranchero Owners Club -
Welcome Ranchero Owners
IROC is an internet club for owners of the Ford Ranchero. If you own one you're a member!
The Saints Car Club exists to perpetuate the American tradition of nostalgic and custom automobiles, to promote good family values and to bring social benefits to members and friends. Club members are committed to becoming actively involved with their community. (in Washington State)
Marti Auto Works - Get your Marti Report here
Torino Wheel Covers - Factory original hubcaps, hub caps, hubcap, hub cap, wheelcovers, wheel covers, wheelcover, wheel cover and used center caps.


The POR-15 Store - FREE shipping offer on POR15 Rust preventive coatings and restoration supplies. Stop Rust Permanently!
Carbon Fiber Hoods - Aftermarket carbon fiber and fiberglass hoods and accessories for nearly all makes and models. Site includes comprehensive catalog, secure ordering, product reviews and complimentary shipping on all items.
Hubcaps and Wheels Unlimited - Offering Hubcaps, Wheel Covers, and Wheels. Great
Prices
Learn to Sell Cars - Discover proven secrets to selling cars
POR-15 Canada Ltd. - We are factory authorized distributors of the complete line of world famous Por15 Rust Preventive paints, hi-performance coatings and restoration products. From frames to farm equipment; from fuel tanks to headers, we are your one stop source for permanent coatings. We are master distributors for Canada (www.por15canada.com) and also oversee all wholesale activities of Massachusetts, Connecticut and Rhode Island.
Ford Swap Meet - Welcome to FordSwapMeet.com, your #1 place to buy, sell and trade parts fromt the greatest auto manufacturer in the world, the Ford Motor Company. Go through out free and very simple registration form, and you will be ready to go.
Canada POR-15 Stop rust permanently with POR-15. Complete selection and fastest shipping on all POR-15 products within Canada.
Car Cover World - Car Cover World is the leading worldwide supplier of Covercraft Car Covers for Cars, Trucks, and SUV's. Premium quality at huge savings. All years, makes, and models.
eSuperchargers - Supercharge your vehicle up to 2psi for a fraction of the cost of ordinary superchargers. Up to 30% gain in horsepower across the entire rpm band!
www.Advanced-Synthetics.com - Advanced Synthetics, Extend the life of your car, truck or boat with AMSOIL synthetic motor oils, lubricants and filtration systems.
www.americanautomanuals.com - F.Y.I. CD-ROM Tech Manuals - Now here's something you don 't find everyday, a new product that actually makes good sense. I'm talking about the shop manual CD-ROM's put out by: American Auto Manuals on CD-ROM. Your first impression might be that you already have a manual for your vehicle. While that's probably true, how many of you are excited about having to take that manual out to the garage when it's time to work on that showpiece? That's what I thought. Lets face it, that paper manual cost a lot, and is worth a lot more, especially if you have to have several manuals to do the job. It's a lot easier to go to the computer, slip in the CD, and print out the pages you need. Write on them, step on them, you get the idea. Each CD-ROM has all the various manuals for your model and year, and in most cases, includes the parts book. The CD is easy to install, and simple to use. It is set up exactly like the original book. At $49.95, you can't beat the price. For the same information in paper, you could easily pay hundreds of dollars. Pre-1979 CD's are available for Chrysler and Ford products, and pre-1973 for G.M. products. For more information, go to www.americanautomanuals.com
Hicks Salvage - If you're looking for the best in Classic and Muscle car parts , you've come to the right place. We offer a wide range of both new and used parts, as well as skilled sales associates for your needs on most Classic and Muscle car parts. Our experience in the Classic automobile business allows us to partner with you, the customer, to find you the right parts new or used to restore your classic muscle car.
We specialize in vehicles from the early 20's to late 70's. We have access to a large inventory of used parts ranging from over 8000 cars and creeping on 100 acres. If there is a part that you have in mind please email us, chances are we have it or can locate it for you. We have been known to have parts that no one else in the country can locate. We have chrome for just about any make and model from Ford, Mopar, AMC, not to mention parts for Edsels, Henry J's etc. Some very rare parts are hibernating in our yard. Although our salvage yard is not open to the general public (due to the number of rare vehicles) we strive on satisfying our customers and enjoy helping restore Americas muscle.
Please review our website and look for future updates. As always we are open to suggestions and constructive criticism. Please feel free to email our webmaster on any comments. We hope you enjoy your shopping experience and return again and again for your needs. Let us help please review our customer testimonials. PLENTY OF TORINO PARTS AVAILABLE ALL YEARS!!!
POR-15 Shop - Distributor of POR-15, a moisture cured, rust preventive coating. Stop rust permanently for your home, auto and boat with POR-15.
- Lane's Professional Car Products-Offers exclusive high-end car wax, car soap, car cleaners, auto polish, car care products and more!


- 1010tires.com is the absolute authority on tires and wheels featuring hundreds of high-performance, aftermarket wheels and tires.
ABC Auto Upholstery Auto Glass and Repair- Quality auto interiors (car upholstery kits, auto carpet, dash caps and dashboard restoration, door panels, sunvisors, headliners, convertible tops, classic auto glass, and more) at reasonable prices. Classic and muscle-cars our specialty!
5 Star Shine- To Give Your Car the Best Paint Protection Possible...Stop Waxing It!" Why keep waxing every month? Apply 5 Star Shine one time and admire that new showroom look for 5 years! 100% Guaranteed!
Toy-Mart - Fellow auto enthusiast's have their own toy store with die-cast cars, racing collectibles, Barbie collectibles, etc. Check it out!
Auto Krafters, Inc - Restoration Parts and Accessories for Classic Ford and Mercury Cars 1953 - 1979
Dearborn Classics - Dearborn Classics is an international mail order company that specializes in the manufacture and supply of quality parts and accessories for the Ford Ranchero, Ford Falcon, Ford Fairlane, and Ford Torino.
Rose City Emporium - Specializing in guaranteed used parts and service for Ford Torino, Ranchero, Fairlane, and Mercury Cyclone 1968 thru 1973. Since 1979
Autopedia - Automotive Encyclopedia - The AUTOmotive encycloPEDIA - is the complete Internet source for automotive-related information, where consumers can find information related to Autos, Boats, Trucks, Minivans, Motorcycles, RVs and Sport Utilities.
Crites Restoration - Crites Restoration Products has been manufacturing and retailing fine quality parts for 1957-79 Fords and Mercurys for over 15 years. We strive to present our customers with the best quality fiberglass products and engine conversion kits along with hundreds of other parts to convert their Fairlane, Torino, Cyclone, Ranchero, Galaxie, Mustang, Comet or Falcon into an AFX/BFX clone, custom street cruiser, drag racer or putting back to original stock.
David Kee Toploader Transmissions, Inc. - Specializes in remanufactured Ford 4 speed toploader transmissions. We stock a complete line of new and used toploader parts. We also sell Hurst shifters, Lakewood bellhousings, McLeod clutches, Spicer u-joints and drive shaft yokes.
Auto Trader Extreme - A classified site for Muscle Cars, Hotrods, Exotics, Hummer, and Classics.
Stanbridges Hobbies - Australian Falcon diecasts. stanbridges@argo.net.au attn: Peter Dallimore
Biante Diecast - Australian Falcon die-cast models or e-mail at bev@diecast.net.au (Bev Young)
Falcon GT Garage - This is a Falcon parts distributor who also sells diecast on the side. Click on the ignition key ,then go to parts list and click. Go to gifts and click then down to models. This maybe the best chance to get some of the earlier released cars so if the 1st 2 sites can't help try here.
Perogie Enterprises - Perogie Enterprises has been supplying Ford parts to customers for almost 20 years. We have a 10,000 square foot warehouse full of New Old Stock and used Ford parts including the Mustang, Shelby, GT350, GT500, Boss 302, Boss 351, Boss 429, Fairlane, Torino, Galaxie, Maverick, Montego, Cyclone, Comet, Cougar, Cobra and many more!
Blueoval6079.com - Dedicated to the restoration and preservation of all Ford and Mercury products 1960-1979 Offering reconditioned and quality used parts, rare options and accessories for Torino/Cyclone/Ranchero, Mustang/Cougar, Fairlane/Falcon/Comet, Galaxie/Lincoln/Tbird, and F100
Mac's Antique Auto Parts - If you are contemplating the restoration of one of these Fairlane/Torinos, or are already deep into a restoration, or are proudly driving your completed restoration, Mac's can help you. Mac's has been supplying a complete line of parts, accessories, supplies, manuals, and literature for Ford restorers since 1977.
Tri-City Plating - Tri-City Plating offers plating in copper, nickel, chrome and gold. We can re-chrome your core or offer you a re-chromed bumper out of stock (subject to availability) . We also TRIPLE PLATE all bumpers to insure a show quality chrome. Turn around time on most bumpers is approximately three weeks. All of our bumpers have a lifetime warranty.
Just Dashes - Just Dashes is the interior parts restoration company of choice when only the best will do. Their award winning vinyl parts restorations appear in many national points champions and magazine project vehicles. Your parts are restored by expert craftsmen using state-of-the-art vinyl materials in the correct grain for your application. There is NO OTHER restoration service that can create the quality, authenticity and perfect fit available from Just Dashes.
PDQ Restorations - We Re-Chrome PLASTIC antique auto parts!
Snakeman Enterprises - 144 OLD POWERLINE LANE, N.E. CLEVELAND, TN. 37323 423-479-7314 HAVARD "SNAKEMAN" STILL SMALL SHOP THAT SPECIALIZES IN FORDS, PRIMARILY MUSTANG,TORINO,FAIRLANES. HAS NEW AND USED ENGINE/BODY PARTS. IS A GURU ON DIFFICULT COBRA STUFF. IF HE DOESN'T HAVE IT, HE CAN FIND IT.
TopLoader Heaven - Our ultimate goal is to have the most informative Toploader site on the net. Information that you can really "sink your teeth into." We'll have plenty of thumbnail images with factory Ford 4-speed shifters and other rare Toploader related parts. We'll also have part numbers and in depth info on year by year changes made to Ford Motor Co. toploaders and shifters.
Palmieri Concepts - Palmieri Concepts provides custom photography and digital graphics services by transforming your everyday pictures into custom artwork. We specialize in the automotive area with a focus on Collector Cars, Muscle Cars, Hot Rods, Vintage Cars and Motorcycles. In addition to creating custom photographs, we have a large selection of classic car pictures with Fords, Chevrolets, Mopars, including Mustangs, Camaros, Texas Choppers, Harley Davidsons and other classic 70's muscle cars and motorcycles.
Powder Barons - Located in Middletown, DE we offer Powder Coating, Ceramic Coatings, Engine Performance Coatings,Full Range of Blasting services, Coming Soon Plastic Media Blasting. We serve industry and individuals alike, whether you have 1 part or 1000 we can handle what you need, we strive for 100% satisfaction with our customers, and are not happy unless this is accomplished.
Good Ole Days Cars and Parts - Project cars and parts. We have an extensive inventory of parts for: 1955-1963 Thunderbirds MG - A, B and Midgets '50's, '60's, and '70's Ford Parts Ranchero's - All Years

- EverythingMuscle.com - Muscle and classic Car Repair, Service, and Show quality Restoration. Providing Connecticut and the East Coast with the first Muscle Car & Classic Car full restoration facility! Our goal at E-Muscle, LLC is to be the one stop source for the complete restoration of your Classic or Muscle car. This is achieved through over 25 years of hands and technical experience, that has yielded some of the highest show quality muscle cars in existence. We are committed to being the best in the entire Muscle Car Business through the use of the latest products, technology, and a workmanship level that is second to no one. Our word is our bond! We are "The Future of your Classic"

- "Classic Cars and Muscle Car Prints and Pics by MaddMax. Buick, Chevrolet, Ford, Dodge, Plymouth, Shelby, Pontiac, Oldsmobile prints and pictures. Fabulous black and white prints of all the greatest classic cars and muscle cars, past and present. Street rods from the 30's. Classic muscle cars such as the Pontiac GTO, Buick GSX, Chevy Camaro, Ford Mustang, Ford Torino, Chevy Chevelle and Corvette. Modern exotics like the Dodge Viper, Chevy Corvette Z06 and Plymouth Prowler are all represented in beautiful prints. Over 250+ beautiful classic cars and muscle cars to choose from. Many more prints are added every year. We now offer fabulous car show Showboards to complete that perfect display at your local or national car show. Muscle car and classic car prints by Maddmax Car Art."
Fossil Cars.com - "FossilCars is one of the premier Classic Car sites on the Web. We feature hundreds of classic car ads (most with pictures) and receive about 80,000 hits each day from thousands of visitors. Beyond the many Collector Car ads, we feature special areas for clubs and for shows and we have a unique free "Auto-Notify" service - that emails potential buyers when their dream car is posted on the site."
Kustom Haus LTD - "Where the ordinary has become extinct" Specializing in custom paint, autobody, and graphics. Autos, bikes, helmets, anything needing high quality custom paint.
Charlie Werger the Car Builder - "You Baby can be remanufactured to better than new!" "You get customer satisfaction, top Quality craftsmanship, lasting results, cost efficient solutions, a knowledgable source"
APT Instruments Intl Inc - Speedometer and gauge repair and restoration. Custom and factory artwork for face dials. Clock conversions. Authorized dealer for Smiths Instruments. Chuck Kulbeth 952-881-7095 demaree@uslink.net www.gaugeguys.com APT Instruments Intl Inc 9632 Humboldt Ave S Bloomington MN 55431
Hot Rods & Custom Stuff - Hot Rods & Custom Stuff is a full-service hot rod and restoration shop with an extensive, high-traffic website we're sure you will enjoy visiting. Please stop by and check us out when you get a chance.
Rodwerx- "We Bring Old Tin to Life" . Rodwerx deals in vintage cars, trucks and parts. They also do insurance appraisals, photography, custom body & chassis work . The picture galleries of vehicles from the 1920's to the 70's are fantastic. The "Work Stuff " photos are excellent ! You won't want to miss the "Torino" gallery. Visit Rodwerx at: www.thewerx.ca
Paintwerx Studios- " Learning, Living & Loving Watercolors " Artist specializing in watercolor workshops, classes & custom framing. This artist has several great paintings of vintage cars. You can have your car personalized in a fabulous original watercolor "Work of Art" . Check it out at: www.thewerx.ca
1970 Torino Cobra Price Guide - Collector Car & Truck Market Current Value
Hemming Motor News - Need I say more
Cruise News - The Cruise Night Handbook - A concise listing of cruises worldwide.
The Collectors Guild - Die Cast Cars and Trucks - 1:18th scale die-cast model cars and trucks from: Ertl, UT, Revell, and Road Legends
Palm Distributing - ANY PICTURE ON A LICENSE PLATE!!! Have your favorite picture on a metal license plate. Any color photograph, magazine picture, artwork, or any image can be professionally transferred onto a license plate. Want a picture of your pet on a plate.....No Problem! We can put anything on you think of. Ex: your pet, your vehicle, family, house, sport, hobby, club logo, business ..almost anything.
The Classic Auto Mall - Welcome to THE CLASSIC AUTO MALL, the premier on-line source for Classic Vehicles, Automobilia, & Rare Parts. Here's where you'll find the most detailed information available on the Web to help you find your way to whatever it is that interests you about classic vehicles.
Buy-and-Sell-Car-Secrets.com - My Description: Learn how to buy new cars & save $1000 to $5000. Buy used cars without getting screwed! Avoid car dealer scams. Sell a car for $300 to $1000 more. Slash your car insurance! Save hundreds on a superior extended car warranty, Get a car loan within an hour. Plus more!
Security Central -"HPVCA" News, Products, Files, Updates & Consulting. - Making Your Security Our Priority ! Products & Services Arena Includes: "UnderGround HPVCA Activities Monitoring, Hacking Files & Resources, Anti-Hacking Files & Resources, SpyWare Products & Resources, IT-Security, And Personal Security & Defense Products. Free One Month Trial Subscription Available for a limited time only. (This is a friend from works site)